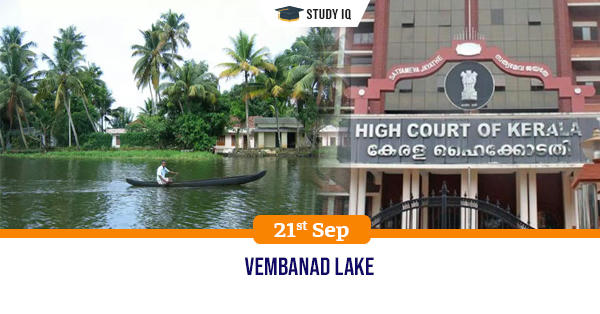 Vembanad lake
Date: 21 September 2019
Tags: Geography & Environment
Issue
Residents of four high-rise apartment complexes along the Vembanad lake in Maradu, Kerala, are protesting against a recent Supreme Court order to raze down their homes, which were built there in gross violation of CRZ guidelines.
Background
The Supreme Court judges, annoyed with the non-implementation of earlier court orders, asked the Kerala government to complete the task of demolishing the structures as early as possible. It is alleged that these construction have adversely affected existence of Vembanad lake ecology.
Details
The Supreme Court had highlighted the ecological importance of the Vembanad lake system in a verdict in which it upheld a decision of the Kerala High Court to demolish some illegal constructions made along the lake.

The SC observed that the lake was undergoing severe environmental degradation due to increased human intervention.
Vembanad Lake
Vembanad (Vembanad Kayal or Vembanad Kol) is the longest lake in India and the largest lake in the state of Kerala. It is the largest Ramasar site in India.

The Vembanad wetland system covers an area ,thereby making it the largest wetland system in India.
Threats to the lake
There have been encroachments for agricultural expansion, aquaculture, large engineering structures, harbour development and tourism.
CRZ norms
The coastal land up to 500m from the High Tide Line (HTL) and a stage of 100m along banks of creeks, estuaries, backwater and rivers subject to tidal fluctuations, is called the Coastal Regulation Zone(CRZ).
CRZ-1: these are ecologically sensitive areas these are essential in maintaining the ecosystem of the coast. They lie between low and high tide line. Exploration of natural gas and extraction of salt are permitted.

CRZ-2: these areas are urban areas located in the coastal areas. Now under new coastal zone regulations 2018, the floor space index norms has been de-freezed.

CRZ-3: rural and urban localities which fall outside the 1 and 2. Only certain activities related to agriculture even some public facilities are allowed in this zone.
CRZ-4: this lies in the aquatic area up to territorial limits. Fishing and allied activities are permitted in this zone. Solid waste should be let off in this zone. This zone has been changed from 1991 notification, which covered coastal stretches in islands of Andaman & Nicobar and Lakshdweep.