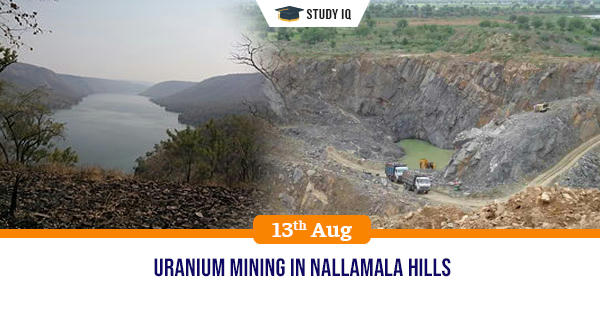 Uranium Mining in Nallamala Hills
Date: 13 August 2019
Tags: Geography & Environment
Issue
A protest was staged by Joint Forum for People's Democratic rights to stop uranium mining in sensitive areas of Nallamala Hills of Andhra Pradesh.
Background
Uranium is one of the rarest minerals on the earth and a small fraction is available in India.
The major uranium mining areas in India are located in the states of Telangana, Andhra Pradesh, Jharkhand, Karnataka, Meghalaya etc.
Impact of Uranium Mining
The mining would affect rivers, polluting the water and later the villages around it.

Toxic waste is generally buried inside the earth. However, it is alleged that as the government is doing a sub-par job at management and the waste is exposed to human beings and ecology.

Significant potential environmental risks are associated with extreme natural events and failures in management practices.
Nallamala Hills
The Nallamalas (also called the Nallamalla Range) are a section of the Eastern Ghats which stretch primarily over Kurnool, Nellore, Guntur, Prakasam, Kadapa and Chittoor districts of the state of Andhra Pradesh and Mahabubnagar, Nalgonda districts of the state of Telangana, in India
Importance of Nallamala Hills
The Nallamala Hills comprises of Nagarjunasagar Srisailam Tiger Reserve. The reserve continues to be the largest and the Amrabad Tiger Reserve carved from it, is the second largest tiger reserve in India.

This has some 430 Chenchu tribal families which have lived there all these years worried over their future. The Chenchus are one of the most primitive communities of India.