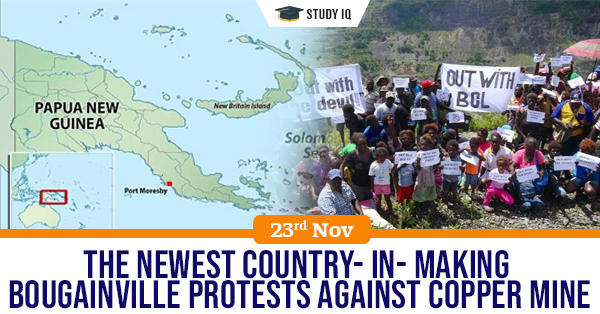 The newest country- in- making Bougainville protests against copper mine
Date: 23 November 2019
Tags: Geography & Environment
Issue
Approximately 30 years after a decade-long brutal civil war, Bougainville, a tiny island in the Pacific, is going to the polls to vote on its independence from Papua New Guinea.
Background
If Bougainville's people vote for its independence in the historic referendum, the world will get its newest and possibly smallest nation.
Details
Between 1988-1998, political factions in Bougainville were involved in an armed conflict with the government of Papua New Guinea, in an attempt to force Papua New Guinea to divest control of the resource-rich island.

The historic referendum is a result of one of the three provisions of the Bougainville Peace Agreement, signed in 2001 and enacted through an amendment of the Papua New Guinea Constitution, the other two provisions being weapons disposal and autonomy.

The peace agreement of 2001 brought an end to the violent conflict between the people of Bougainville and the government of Papua New Guinea.

The referendum is not binding and would still have to be passed by the Government and the Parliament of Papua New Guinea, in consultation with the Autonomous Bougainville Government, before a final decision is made.

There has been dissatisfaction among Bougainvilleans over implementation of the agreed arrangements for Bougainville autonomy, particularly in regard to the constitutionally guaranteed financial grants.

The Autonomy Bougainville Government (ABG) is legally entitled for grants, but the (Papua New Guinea) National Government has not provided in accordance with the ABG's calculations.

The island is home to Panguna mine, also known as the Bougainville Copper Mine, that holds some of the world's largest reserves of copper and is the world's largest open cut copper mine.

Mining activities over the years also caused environmental degradation of Bougainville's lands and water.

Papua Guinea has much to lose if Bougainville gains independence, especially in terms of access to Bougainville's natural resources.

Due to shifting powers, diplomacy and developing military and economic interests in the Asia-Pacific, the Bougainville referendum is going to have consequences not just for immediate neighbours but also countries like USA.

There are certainly prominent Bougainvilleans who see a great deal of unrealised potential in developing relations with China, which will Chinese to put their foot in Asia-Pacific.