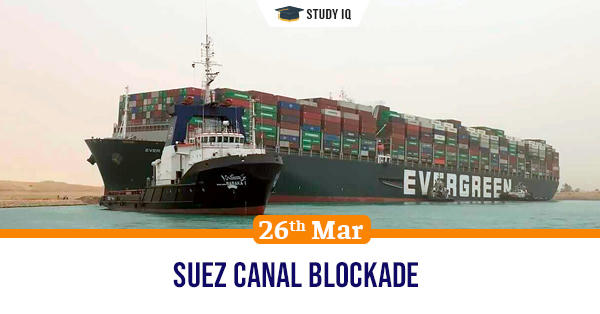 Suez canal blockade
Date: 26 March 2021
Tags: Geography & Environment
Issue
One of the world's biggest ships, Ever Given has got stuck in the Suez Canal, blocking the maritime traffic through the route.
Background
The Ever Given can carry more than 20,100 steel containers, making it one of the largest container ships of the world.
Details
Ships across the world have grown in size as they can carry more cargo but they are also vulnerable to such threats and accidents.

The move has allowed shipping companies to make large profits but ports across the world are forced to spend more money on deepening their channel and route for such ships.

The Ever Given got stuck in the canal's embankment as it drifted from its course at the centre of the canal. This was due to the bad weather and strong wind gusts.
Increasing ship size
The average size of the ship passing through the Suez canal is growing year on year as companies are trying to build larger ships.

These ships carry more tonnage than conventional ones but are vulnerable to accidents during rough weather and drifting of course.

Managing large ships is a challenge due to wind gusts in places like the Suez Canal. The ship can be pushed into wind gusts and turned sideways fast.
Suez canal
Suez canal is an artificial waterway that connects Mediterranean with the Red Sea. The canal is situated in the Sinai peninsula of Egypt and opens faster movement between Europe and Asia.