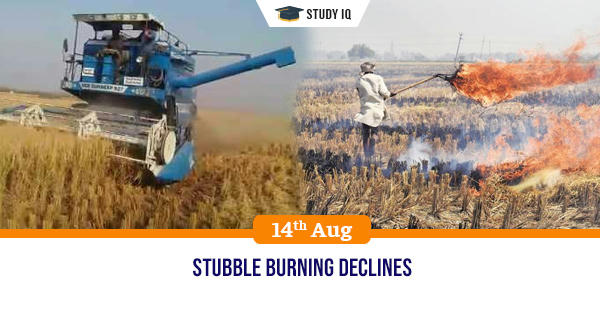 Stubble Burning declines
Date: 14 August 2019
Tags: Geography & Environment
Issue
Burning of paddy crop residue, one of the major causes of air pollution, declined by 41 per cent last year over 2016-level in Punjab, Haryana, Uttar Pradesh and Delhi-NCR with the help of a Rs 1,151 crore central scheme
Background
Stubble burning has been a major contributor to pollution in northern India including Delhi-NCR.This pollution is termed to be a major health concern especially related to breathing.
Stubble Burning
Tonnes of residue is burnt in paddy fields every October-November to clear the field for conventional wheat sowing because of the narrow window between paddy harvesting and wheat sowing.

If monsoon arrives late, this window narrows further, prompting farmers to set the residue on fire to clear the field for winter crops.
Effects of Stubble burning
Crop burning method to remove stubble has negative implications for the food system. The nutrients present in the stubble are wasted in burning and farmers have to spend on chemical fertilizers to maintain soil quality.

Burning leads to the ground temperature rising and the soil drying up, necessitating additional water for irrigation. Livestock, too, is impacted by crop burning. It has been found that milk production falls up to 50% during the two months

of stubble burning.
Measures to reduce Stubble Burning
Centre is giving up to 8% subsidy on purchase of machines like Super SMS, Happy Seeder, Paddy Straw Chopper and zero till drill used for residue management

.

Other machines used for managing stubble include:

Happy Seeder(used for sowing of crop in standing stubble)

Rotavator (used for land preparation and incorporation of crop stubble in the soil)

Zero till seed drill (used for land preparations directly sowing of seeds in the previous crop stubble)

Baler (used for collection of straw and making bales of the paddy stubble)

Paddy Straw Chopper (cutting of paddy stubble for easily mixing with the soil)

Reaper Binder (used for harvesting paddy stubble and making into bundles)
On other hand, these machines are too costly and the state governments should come forward and provide better subsidy so that farmer can afford these machines.