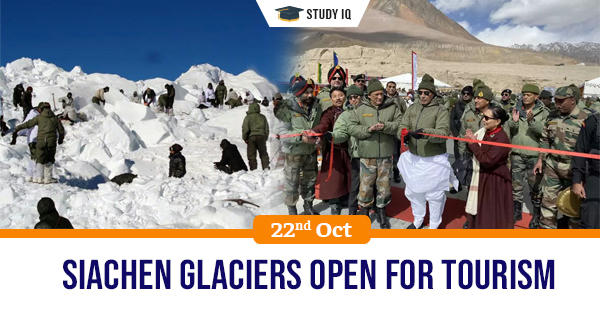 Siachen glaciers open for tourism
Date: 22 October 2019
Tags: Geography & Environment
Issue
Defence Minister Rajnath Singh has announced that the Siachen area is now open for tourists and tourism, where tourists can visit these difficult areas.
Background
The goverment is planning to develop Ladakh as a tourist hub, with large scope for international as well as domestic tourists. Siachen had been out of bounds for tourists but the new policy tries to reverse this trend.
Details
Siachen Glacier comes under the Ladakh region, which along with Jammu and Kashmir, was declared as a Union Territory after the centre's move to scrap special status for the state.

The minister has said that from Siachen Base Camp to Kumar Post, the entire area has been opened for tourism purposes.

The Kumar Post is at height of more than 15,000 ft. Tourists will be able to travel from the base camp at Partapur at 11,000 feet to the Kumar Post.

This means other than the annual expedition organised by the Army from the base camp to Kumar Post, tourists will be able to travel independently.
Siachen