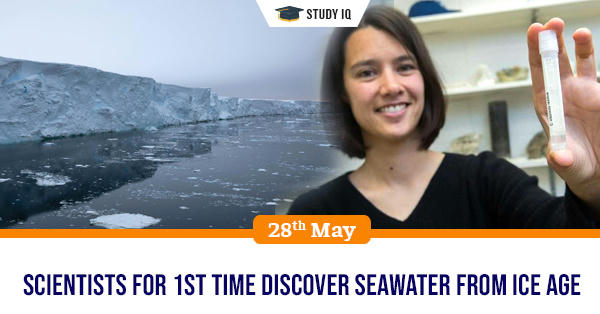 Scientists for 1st time discover Seawater from Ice Age
Date: 28 May 2019
Tags: Geography & Environment
Scientists for first time have discovered remnants of seawater dating back to Ice Age, tucked inside rock formations in the middle of the Indian Ocean. This remnant of ice age seawater was discovered using the ship, JOIDES Resolution, while exploring the limestone deposits that form the Maldives.
Key Facts
This seawater from ice age is back salty — much saltier than normal seawater. In had migrated slowly through the rock.

Previously, researchers had to reconstruct seawater from last Ice Age from indirect clues, like fossil corals and chemical signatures from sediments on the seafloor.

Significance of this discovery:

Scientists are interested in reconstructing last Ice Age because patterns that drove its circulation, climate and weather were very different from present conditions. Understanding these patterns will help them to shed light on how the planet's climate will react in the future.
About JOIDES Resolution (JR)
It is a research vessel that drills into the ocean floor to collect and study core samples. JOIDES is acronym for Joint Oceanographic Institutions for Deep Earth Sampling. It is part of International Ocean Discovery Program and is funded by US National Science Foundation. Scientists use data from JR to better understand climate change, geology and Earth's history.