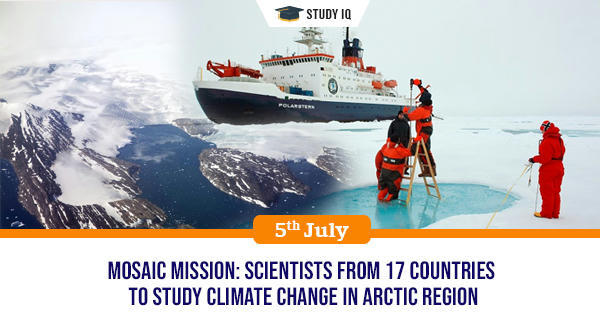 MOSAIC Mission: Scientists from 17 countries to study climate change in Arctic region
Date: 05 July 2019
Tags: Geography & Environment
Scientists from 17 nations are taking part in the year-long Multidisciplinary drifting Observatory for the Study of Arctic Climate (MOSAIC) mission to study climate change in Arctic region.
About MOSAiC mission
Objective:

The objective of this scientific mission is to study impact of climate change on the Arctic and how it could affect the rest of the world.
Scientists from 17 nations including United States (US), Russia, Germany , China and other countires are taking part.

Funding:

This mission has received funding from US institutions such as National Science Foundation, Department of Energy, National Oceanic and Atmospheric Administration (NOAA), and NASA.

Features

: Under this year long mission, German icebreaker ship RV Polarstern carrying scientists from 17 countries and packed with supplies and scientific equipment will be deployed into the Arctic Ocean.

This ship will anchor to a large piece of sea ice and allow water to freeze around it to effectively trap in the vast sheet of white that forms over North Pole each winter.

Scientists will build temporary winter research camps on ice which will allow them to perform tests that wouldn't be possible at other times of the year or by satellite sensing.

Way Forward:

The measurements obtained from Arctic winter ice will be combined with data collected from satellites. This will enable scientists to improve increasingly sophisticated computer models for weather and climate prediction.