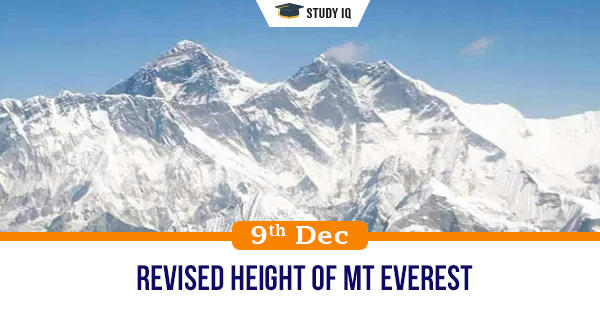 Revised height of Mt Everest
Date: 09 December 2020
Tags: Geography & Environment
Issue
The joint survey undertaken by Nepal and China has revised the height of Mt Everest from 8,848 metres to 8,848.86 metres.
Background
According to the earlier measurement done in 1954 by Survey of India, the height of Mt. Everest is 8,848 meters.
Details
The new height would be based on trigonometric and GPS measurements carried out by Nepal and China. Nepal had sent a team of surveyors to the top of the peak in May 2019, while China sent a team earlier this year.

Nepal govt decided to measure exact height of the mountain amid debates that there might have been a change in its height due to various reasons, including the devastating 2015 earthquake.

Between 1849 and 1855, the Survey of India made observations from Dehradun, India base to Sonakhoda base in Bihar during which the Himalayan peaks of Nepal were also observed.

At that time it was not known that this peak in the Himalayas was the highest in the world. During computations, the mean computed height of Peak XV came out to be 8839.80 metres, and it was later named after Sir George Everest, the ex surveyor-general of India.
Mt Everest
Mount Everest, also known as Sagarmatha in Nepal, is Earth's highest mountain above sea level, located in the Mahalangur Himal sub-range of the Himalayas. The China–Nepal border runs across its summit point.