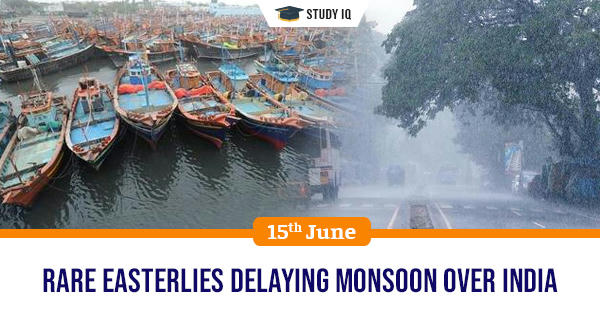 Rare easterlies delaying monsoon over India
Date: 15 June 2019
Tags: Geography & Environment
According to Climate Prediction Centre of the US National Weather Service, unusually warm waters in Arabian Sea have set up rare band of easterly winds over Indian Ocean, which has significantly delayed onset of monsoon over the Kerala coast. Besides, dry spell seen over India will delay monsoon onset over the rest of the country.
Reasons for Dry Spells
Madden-Julian Oscillation (MJO) wave:

Its location and strength will play important role in development of monsoon over India during the next several weeks. It is expected to wake up circulation and prompt it to descend to lower levels to set up low-pressure area.

Extremely Severe Cyclone Vayu

: It took advantage of MJO wave traversing West Indian Ocean and adjoining South Arabian Sea. The wave is now over the East Indian Ocean and adjoining Bay of Bengal.

Storm initiation:

The presence of MJO over East Indian Ocean and adjoining Bay of Bengal has led to oceanic circulation over North-East and adjoining East-Central Bay.
Madden-Julian Oscillation
It is oceanic-atmospheric phenomenon which affects weather activities across. It is basically eastward moving 'pulse' of clouds, rainfall, winds and pressure near equator that typically recurs every 30 to 60 days. It is traversing phenomenon and mostly prominent over Indian and Pacific Oceans. It brings major fluctuation in tropical weather on weekly to monthly timescales.
MJO wave: It is a global band of low-pressure area moving periodically from West to East. It determines initiation and intensity of low-pressure areas or depressions or cyclones. It also oversees monsoon onsets under its footprint.