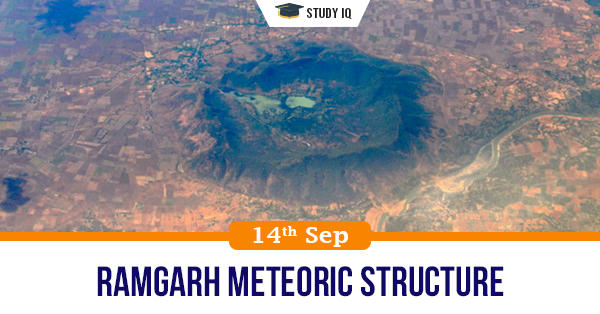 Ramgarh Meteoric structure
Date: 14 September 2020
Tags: Geography & Environment
Issue
Two recent papers have now yielded valuable information about the Ramgarh meteorite impactor and the condition of the region when it struck.
Background
The international team collected rocks and impactite samples from the rim of the crater, studied the chemical composition, and found them to comprise iron, copper, nickel, and cobalt. They argue that a copper-rich iron meteorite could have been the impactor.
Details
The sedimentary rock of the area was found to be of the Mesoproterozoic age of about 1,600 to 1,000 million years ago.

The impact event might have occurred into the palaeo-channel of the Parvati River, possibly into a shallow water environment during the Mesozoic Era, approximately about 165 million years ago.

The structure is roughly rectangular, unlike the simple, bowl shaped Lonar crater of Maharashtra. This structural pattern is roughly consistent with the oblique impact.

The impact structure has an approximately 10 km diameter. The new findings aided by remote sensing and digital imagery shows the diameter to be much higher than the previously noted diameter of about 2.5 km.

The Chicxulub crater of Mexico which is about 170 km in diameter wiped out nearly 90% of life on earth. The Ramgarh structure could have had an effect on the flora and fauna of western Indian Subcontinent.

Craters could be sources of hydrocarbon and mineral deposits. The Vredefort crater of South Africa is rich in gold and Sudbury of Canada has platinum and other rare earth minerals.

The minerals are not formed by impact craters. The pressure and temperature generated during an impact concentrate them.