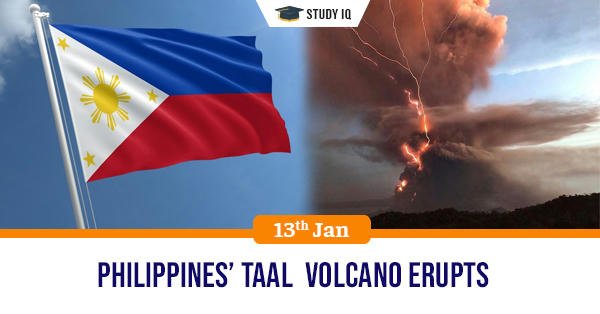 Philippines' Taal volcano erupts
Date: 13 January 2020
Tags: Geography & Environment
Issue
Philippines authorities have urged a "total evacuation" of nearly half a million people near the capital Manila, after a volcano spewed ash up to nine miles into the air, prompting warnings of a possible "explosive eruption.
Background
The volcano is not actually very big but it's considered among the world most dangerous, owing to the number of people that live in its immediate vicinity.
Details
Taal Volcano
The Taal Volcano is located about 37 miles (60 kilometers) south of the capital Manila on the island of Luzon and is one of the country's most active.

All of the eruptions are concentrated on Volcano Island, an island near the middle of Taal Lake. The lake partially fills Taal Caldera, which was formed by prehistoric eruptions.

The volcano was designated a Decade Volcano, worthy of close study to prevent future natural disasters. All volcanoes of the Philippines are part of the Pacific Ring of Fire.
Other active volcanoes of Philippines
Mayon Volcano

Mt Pinatubo

Mt Hibok-Hibok

Mt Bulusan

Mt Kanlaon