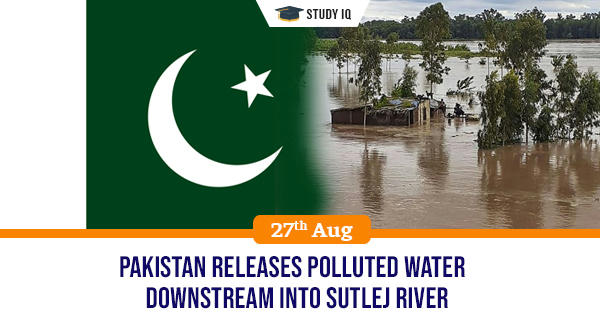 Pakistan releases polluted water downstream into Sutlej river
Date: 27 August 2019
Tags: Geography & Environment
Issue
Pakistan has released polluted water of its tanneries near the international border into the Sutlej river in Ferozepur district.
Background
The Sutlej river is one of the inter-country river between India and Pakistan. It cris-crosses border multiple times by entering and exiting India.

The move comes days after Pakistan accused India of using water as a weapon amid the Kashmir dispute.
Details
The river crisscrosses the international border before enters India in Fazilka district.The tanneries are located in Gandha Singh Wala village of Pakistan
The water is released into the Sutlej from there through drains.At Tendiwala the river reenters India.

Sutlej River
The Sutlej River is the longest of the five rivers that flow through the historic crossroads region of Punjab in northern India and Pakistan. The Sutlej River is also known as Satadri. It is the easternmost tributary of the Indus River.

The waters of the Sutlej are allocated to India under the Indus Waters Treaty between India and Pakistan, and are mostly diverted to irrigation canals in India.

There are several major hydroelectric projects on the Sutlej, including the 1,000 MW Bhakra Dam, the 1,000 MW Karcham Wangtoo Hydroelectric Plant, and the 1,530 MW Nathpa Jhakri Dam.

The river basin area in India is located in Himachal Pradesh, Punjab, Jammu and Kashmir, Rajasthan and Haryana states.

The source of the Sutlej is west of Lake Rakshastal in Tibet, the river then flows at first west-northwest for about 260 kilometres (160 mi) under the Tibetan name Langqên Zangbo (Elephant River or Elephant Spring) to the Shipki La pass, entering India in Himachal Pradesh state.