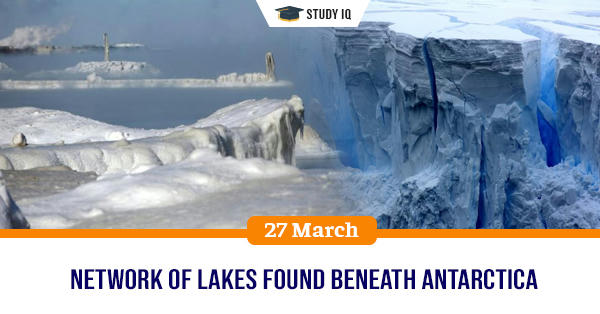 Network of lakes found beneath Antarctica
Date: 27 March 2019
Tags: Geography & Environment
Scientists from Australian Antarctic Program have discovered network of lakes beneath Totten glacier in East Antarctica. This finding may help scientists predicting how melting of polar ice will change the world's oceans in the future.
Totten glacier
It is largest in East Antarctica, stretching 30 kilometers wide and up to 2 kilometers thick. It is biggest ice catchment and draining point of East Antarctic ice sheet. It holds enough water inform of ice, that if it melts, it could raise global sea levels by up to 7 meters.
Key Findings
The network of lakes was discovered using seismic studies which were conducted to find out if there is bedrock or water, as subglacial lakes or ocean under ice.

The presence of bedrock, lakes, or subglacial ocean beneath glacier determines speed at which a glacier moves.

For first time, this study shows that there are substantial amounts of water contained in subglacial lakes, not far from ocean.

The flow of water in and out of these lakes has potential to exert a powerful control on the rate that the ice flows into the oceans which will ultimately affect sea levels.

This is because presence of bedrock under glacier makes it sticky and move at slow rate as compared to presence of water or soft sediments beneath glacier which increase its movement.