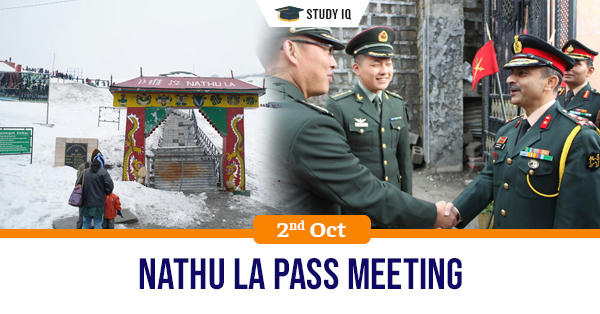 Nathu la pass meeting
Date: 02 October 2019
Tags: Geography & Environment
Issue
A border personnel meeting between senior military officials of India and China, on China's National Day was held at Nathula Pass.
Background
The meeting took place days before the visit of Chinese President Xi Jinping to India. Mr. Jinping will visit Mamallapuram near Chennai in the second week this month for a second informal summit with Prime Minister Narendra Modi.
Details
Besides Nathula Pass, India and China hold border personnel meetings at four other places, including Kibithu in Arunachal Pradesh and Chishul in Ladakh.
Nathu la Pass
Nathu La is a mountain pass in the Himalayas in East Sikkim district. It connects the Indian state of Sikkim with China's Tibet Autonomous Region. The pass, at 4,310 m (14,140 ft) above mean sea level, forms a part of an offshoot of the ancient Silk Road.
Important Himalayan passes
Shipki la- Himachal Pradesh and Tibet
Jalep la - It connects Sikkim with Lhasa
Khardung la- Leh and Siachen glaciers
Chang la - Ladakh with Tibet
Bara lacha pass - Manali and Leh.
Lipu lekh- Uttarakhand and Tibet
Mana- Tibet with Uttarakhand
Bomdi la – Arunachal Pradesh and Tibet
Diphu pass – Arunachal Pradesh and China-Myanmar
Dihang pass- Arunachal Pradesh and Myanmar
Banihal - Jammu and Kashmir
Jojila - Srinagar and Leh

Burzail – Kashmir and Ladakh