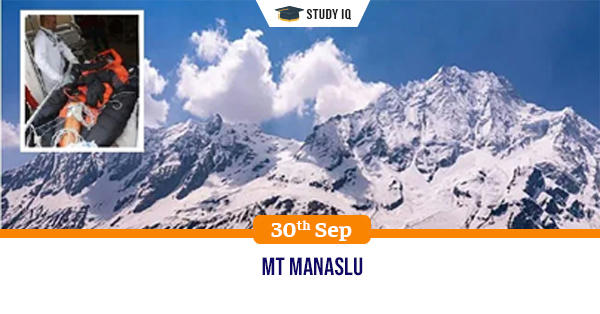 Mt Manaslu
Date: 30 September 2019
Tags: Geography & Environment
Issue
A Polish climber has died on Nepal's Mount Manaslu, the world's eighth highest peak, becoming the first fatality of the autumn climbing season.
Background
Autumn expeditions on the Himalayas are less popular because of the shorter, colder days, snowy terrain and a narrow summit window compared to the busy spring.
Details
Nepal has issued 474 permits for 25 peaks including 10 for Mount Everest which is nearly half of the total permits issued in spring.

This year's traffic-clogged spring climbing season saw a record 885 people summit on Everest, 644 of them from the south and 241 from the northern flank in Tibet.

The season ended with 11 deaths on the mountain, with at least four blamed on overcrowding.

Nepal is home to eight of the world's 14 highest peaks and foreign climbers that flock to its mountains are a major source of revenue for the country.

The rapid growth of the climbing industry has created fierce competition among companies for business.
Mt Manaslu
Manaslu is the eighth highest mountain in the world at 8,163 metres above sea level. It is located in the Mansiri Himal, part of the Nepalese Himalayas, in the west-central part of Nepal.

Manaslu was first climbed on May 9, 1956 by Toshio Imanishi and Gyalzen Norbu, members of a Japanese expedition.
Top 10 highest mountains
Mt Everest

Mt K2 (Godwin Austen)

Mt Kanchenjunga

Mt Lhotse

Mt Makalu

Mt Cho Oyu

Mt Dhaulagiri I

Mt Manaslu

Mt Nanga Parbat

Mt Annapurna I