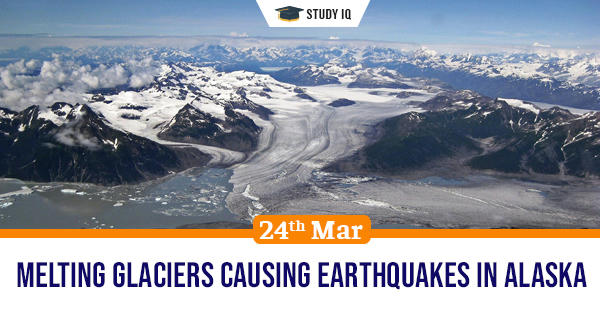 Melting glaciers causing earthquakes in Alaska
Date: 24 March 2021
Tags: Geography & Environment
Issue
Research has indicated that the glacier loss could be causing earthquakes of magnitude 5 or more since the last century.
Background
Alaska is located on a fragile location, where there are impending chances of earthquakes caused due to tectonic activity.
Details
Melting glaciers and shifting tectonic plates could be causing the rise in earthquakes in the region.

The ground below the big glacier springs up like a spongy mattress after pressure in form of glacier is removed, which causes tectonic plates to change positions and triggers earthquakes.

Earthquake after the glacial melt is common in regions such as Canada and Scandinavia. The pattern was however difficult to detect in Alaska.

This is because Alaska is located at the boundary between North American tectonic plate and the pacific plate, where there are frequent earthquakes.

The melting of glacial ice was also causing the land in Alaskan region to rise by about 1.5 inches per year.

Melting ice is not directly linked with earthquakes in the region but it can control the timing and severity.
Earthquakes
An earthquake is a shaking event of the surface of the Earth that results from a sudden release of energy in the Earth's lithosphere that forms seismic waves.
Glaciers
A glacier is a large body of dense ice that is continuously moving due to its own weight. A glacier forms where the availability of snow exceeds its melting over many years.