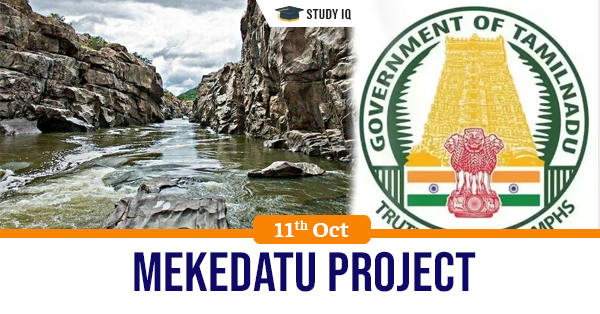 Mekedatu project
Date: 11 October 2019
Tags: Geography & Environment
Issue
Tamil Nadu has urged the Centre not to entertain a fresh proposal submitted by Karnataka for building a reservoir at Mekedatu across the Cauvery river.
Background
Karnataka had submitted a detailed project report seeking grant of terms of reference to conduct an environmental impact assessment for the controversial Mekedatu project.
Details
Tamil Nadu has argued that the CWDT and the Supreme Court had found that the existing storage facilities available in the Cauvery basin were adequate for storing and distributing water to the lower riparian States and no additional reservoirs are required.

The state has flagged the proposal submitted by Karnataka to build a reservoir as untenable and appealed to be rejected outright.

Further, the permission of Tamil Nadu and other co-basin States has not been obtained for the project, it is alleged.
Mekedatu
Mekedatu, which literally means 'Goat's leap' in Kannada, is at the confluence of Cauvery and Arkavathi rivers, near Kanakapura in Karnataka state.

A multi-purpose balancing reservoir project over Mekedatu was aimed at solving the drinking water problems of Bengaluru and Ramnagar district.

This project is also touted as one that could generate hydroelectricity to meet the power demand in the state.
Cauvery River
Cauvery is a river flowing through the states of Tamil Nadu and Karnataka. It is the third largest river – after Godavari and Krishna – in South India and the largest in Tamil Nadu.

It originates in the foothills of Western Ghats at Talakaveri, Kodagu in Karnataka and flows generally south and east through Karnataka and Tamil Nadu and across the southern Deccan plateau through the south eastern lowlands, emptying into the Bay of Bengal.

The tributaries including Harangi, Hemavati, Kabini, Bhavani, Lakshmana Tirtha, Noyyal and Arkavati.

The river basin covers three states and a Union Territory namely Tamil Nadu, Karnataka, Kerala and Puducherry.