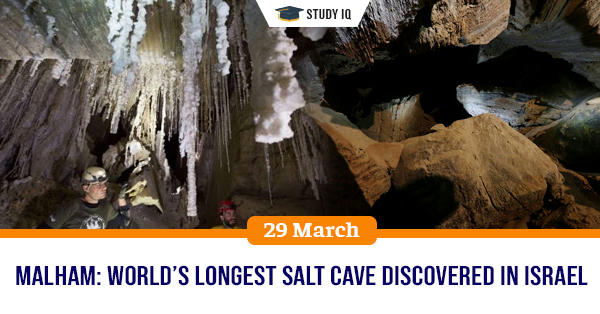 Malham: World's longest salt cave discovered in Israel
Date: 29 March 2019
Tags: Geography & Environment
Researchers have discovered the world's longest salt cave called Malham in Mount Sedom, Israel. It is 10-km long and surpasses previous record holder Three Nudes (Namakdan) Salt Cave in Qeshm Island, Iran which is almost 6.5 km in length.
Malham Cave
It was first discovered in the 1980s and was believed to be just under 5.7 km long. In 2018 using sophisticated laser technology its length was confiremed 10km.

It is made entirely of salt beneath a layer of cap rock.

It was formed by water that dissolved salt and other minerals deposited beneath Earth's surface and created channels.

Part of it runs through Mount Sodom, Israel's biggest mountain located on the southwestern tip of the Dead Sea.

It is living river cave and still growing as rainwater from surface stream flows down cracks in the surface, dissolving salt and creating semi-horizontal channels along the way that flow down towards the Dead Sea. Over time, its length is expected to further increase due to rains.