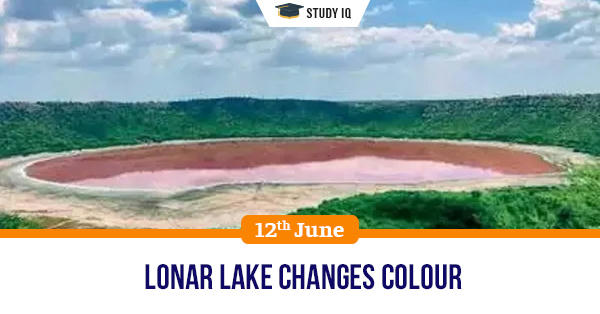 Lonar Lake changes colour
Date: 12 June 2020
Tags: Geography & Environment
Issue
The colour of water in Maharashtra's Lonar lake has changed to pink with experts attributing it to the salinity and presence of algae in the water body.
Background
Located around 500 km from Mumbai, the Lonar lake in Buldhana district is a popular tourist hub and also attracts scientists from all over the world.
Details
Experts say this is not the first time that the colour change has happened, but this time it is more glaring.

The lake, which is a notified national geo-heritage monument, has saline water with pH of 10.5.There are algae in the water body. The salinity and algae can be responsible for this change,

The low level of water may lead to increased salinity and change in the behaviour of algae because of atmospheric changes, this may be the reason for colour change.
Lonar Lake
Lonar Lake was created by an asteroid collision with earth impact during the Pleistocene Epoch. It is one of the four known, hyper-velocity, impact craters in basaltic rock anywhere on Earth.

Lonar Lake lies within the only known extraterrestrial impact crater found within the great Deccan Traps, a huge basaltic formation in India. The lake was initially believed to be of volcanic origin, but now it is recognized as an impact crater.

There are various estimates of the age of the crater. Earlier thermo luminescence analyses gave a result of 52,000 years, while recent Argon-argon dating suggests that the crater is much older; it could be 570 000 ± 47 000 years old.
Other craters in India
Dhala crater is a crater formed by an asteroid impact. It is situated in Shivpuri district, Madhya Pradesh India and is the second such crater found in India, after Lonar lake.
Ramgarh crater, also known as Ramgarh structure, Ramgarh Dome and Ramgarh astrobleme, is a meteor impact crater of 3.5 kilometres (2.2 mi) diameter in Kota plateau of Vindhya range located in Baran district of Rajasthan.