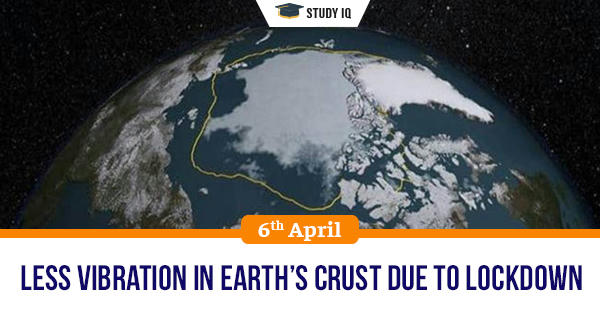 Less vibration in Earth's crust due to lockdown
Date: 06 April 2020
Tags: Geography & Environment
Issue
According an article in the journal Nature, efforts to curb the spread of coronavirus meant that the planet itself is moving a little less, which could allow detectors to spot smaller earthquakes and boost efforts to monitor volcanic activity and other seismic events.
Background
Researchers have reported a drop in seismic noise (the hum of vibrations in the planets crust) because transport networks, real estate and other human activities have been shut down.
Details
Vibrations caused by moving vehicles and industrial machinery produce background noise, which reduces seismologists' ability to detect other signals occurring at the same frequency.

Geoscientists use a detector buried 100 metres beneath the Earth's surface. But, now the natural vibrations can be studied easily through the surface seismic readings as well.

Data from a seismometer at the observatory show that measures to curb the spread of covid-19 in Brussels caused human-induced seismic noise to fall by about one-third.

Geologists have also observed similar trends of a drop in seismic vibrations in Paris, London, Los Angeles, and Aukland due to ongoing lockdown.

The fall in noise could also benefit seismologists who use naturally occurring background vibrations, such as those from crashing ocean waves, to probe Earth's crust.