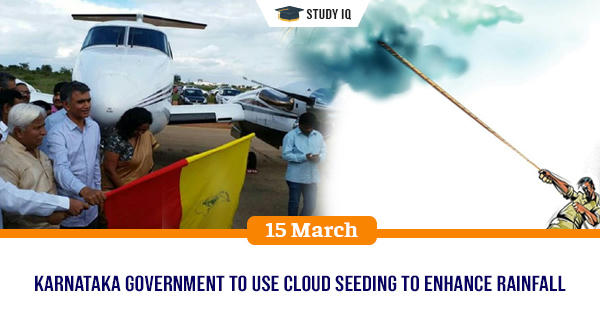 Karnataka Government to use cloud seeding to enhance rainfall
Date: 15 March 2019
Tags: Geography & Environment
Karnataka Government has invited tenders for cloud seeding operations to enhance rainfall during two monsoons periods of 2019 and 2020. It will be replication Varshadhare project launched in 2017 for cloud seeding
Under this operations, state government is hoping to influence upcoming monsoon and capture as much water as possible from the rain clouds to overcome existing drought situation in the 76 taluks of state.
Varshadhare project
It was cloud seeding project launched by Karnataka Government in 2017 to enhance amount of precipitation from clouds to generate more rain.

Special aircraft for period of 37 days (286 hours) was used to disperse chemicals to trigger and enhance precipitation.

State Government claims that it had resulted estimated rainfall enhancement of 27.9% apart from extra inflow of 2.5 tmc into Linganamakki reservoir.
Cloud seeding
It also known as weather modification technique. It is artificial way to induce moisture in rain bearing clouds so as to cause rainfall.

It uses aeroplanes to spray chemicals over clouds to condense smaller particles into larger rain droplets.

The chemicals used in this process are sodium chloride, silver iodide, potassium iodide or dry ice (solid carbon dioxide).

These chemical particles act as base (hygroscopic nuclei) for water vapours to settle and condense into larger rain droplets.