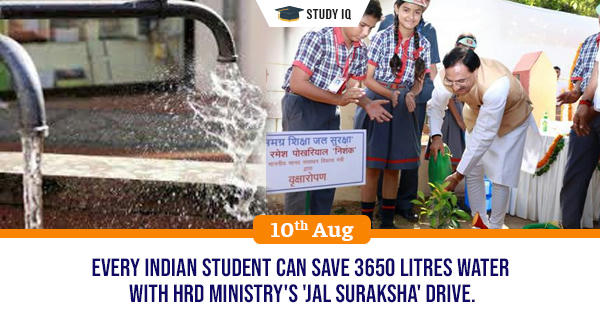 Every Indian student can save 3650 litres water with HRD Ministry's 'Jal Suraksha' Drive.
Date: 10 August 2019
Tags: Geography & Environment
Context: Union HRD minister has launched 'Samagra Shiksha-Jal Suraksha' Drive to create awareness about water conservation among all school students in the country.
Highlights:
This concept of water conservation is essential for students so that they can understand the importance of water and how it is shaping their lives meaningfully, thereby enabling them to participate in water conservation activities in their day to day lives.
The Department of School Education & Literacy, MHRD has prepared a detailed outline to implement this programme in all the schools of the country.
Five objectives of the campaign:
To educate students about conservation of water
To sensitize students about the impact of scarcity of water
To empower students to learn to protect the natural sources of water
To help every student save at least one litre of water per day

To encourage

students towards judicious use and minimum wastage of water at home and school level
Targets
One Student - One Day - Save One Litre Water

One Student - One Year - Save 365 Litres Water

One Student - 10 Years - Save 3650 Litres Water