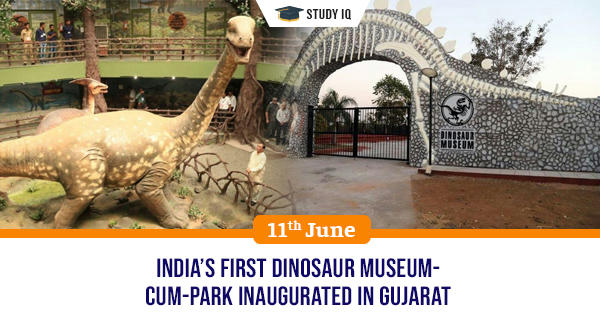 India's first dinosaur museum-cum-park inaugurated in Gujarat
Date: 11 June 2019
Tags: Geography & Environment
India's first dinosaur museum and fossil park was recently inaugurated at Raiyoli village near Balasinor town of Mahisagar district. It is being claimed first such park in the country and overall third in the world.
About Dinosaur Museum and Fossil Park
It has been created by the Tourism Corporation of Gujarat Ltd. Sources said that a society has been formed to operate and maintain the museum.

It creates prehistoric-like era environment when dinosaurs might have roamed around freely in Raiyoli. It exhibits remains of various dinosaurs and their fossilized remains along with petrified eggs of the dinosaurs.

It also houses as many as 50 sculptures of dinosaurs, including life-size one of Rajasaurus Narmadensis that was found in Gujarat.

It is also equipped with modern technology like 3D projection, 360 degree virtual reality (VR) presentations, interactive kiosks and life-size dinosaur replicas.
Raiyoli area: It is located in Kutch area of Gujarat. It is known to be third largest dinosaur fossil site in the world. These fossilized remains belong to Upper Cretaceous formations in the region dating back 66 million years ago. It is also the second largest dinosaur hatchery in the world, where thousands of eggs (of different sizes, some the size of cannon balls) had been found.