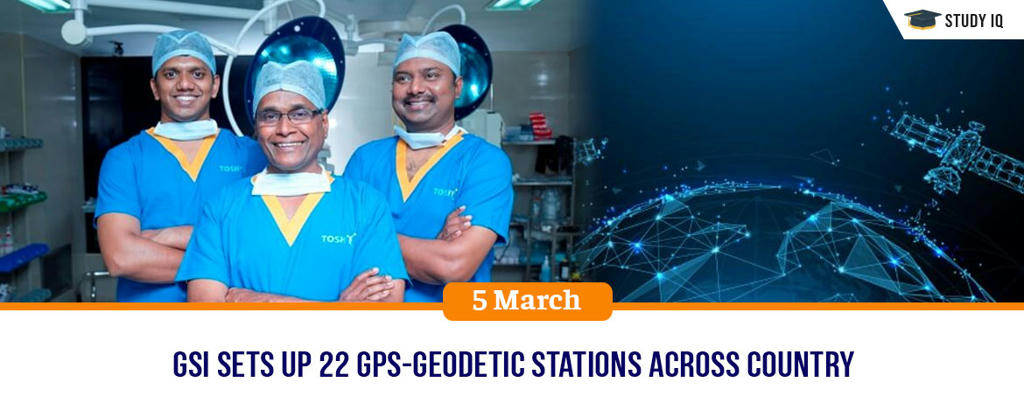 GSI sets up 22 GPS-Geodetic stations across country
Date: 05 March 2019
Tags: Disaster & Disaster Management, Geography & Environment
Geological Survey of India (GSI) has launched 22 GPS-Geodetic observatories or stations across India to identify seismically hazardous zones and encourage mapping activities. Geodetic (pertaining to Geodesy) is science of earth measurement.
GPS-Geodetic observatories
GSI is establishing and maintaining network of continuously operating 35 permanent GPS-Geodetic stations in a phased manner.

These global positioning system (GPS) stations are meant to delineate high strain zones for earthquake probability, determine seismic motion on faults that may lead to rupture that may result in earthquake and produce thematic maps with high positional accuracy.

So far, GSI has set up 22 GPS permanent stations and another 13 will be operational by March 2020

22 GPS-Geodetic operational observatories are located in Thiruvananthapuram, Jaipur, Pune, Kolkata, Dehradun, Jabalpur, Bhubaneswar, Chennai,Raipur, Bhopal, Chandigarh, Gandhinagar Vishakhapatnam, Agartala, Itanagar, Mangan, Jammu, Lucknow, Nagpur, Shillong and Little Andaman.

Remaining 13 stations will be located in Aizawl, Faridabad, Pithoragarh, Uttarkashi, Cooch Behar, Zawar, North Andaman, Middle Andaman, South Andaman, Ranchi, Mangalore, Imphal and Chitradurga. They will be operation by March 2020.
Geological Survey of India (GSI)
It is government organisation that conducts geological surveys and studies. It is one of premier organisations of earth science survey and research in world.

It is attached to the Ministry of Mines. It was established in 1851 and is one of oldest of such organisations in the world.

Functions:

It is prime provider of basic earth science information to government, industry and the general public.

It creates and updates national geoscientific information and mineral resource assessment through ground surveys, airborne and marine surveys.

It also conducts mineral prospecting and investigations, multi-disciplinary geoscientific, geotechnical, geo-environmental and natural hazards studies.