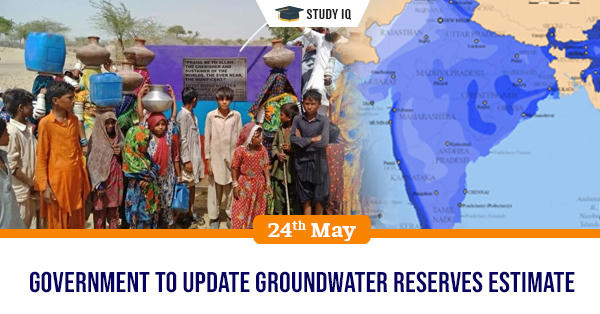 Government to update Groundwater reserves estimate
Date: 24 May 2019
Tags: Geography & Environment
The Union Ministry of Water Resources has undertaken groundwater assessment to finalise updated estimate on the state of groundwater reserves in India. The assessment is survey conducted by Central Ground Water Board (CGWB) that samples sliver of blocks in each State and counts how many blocks have critically low levels of water and how many are well-stocked. The last groundwater assessment was done in 2013.
Key statistics
India's groundwater has been depleting since 1995. In 1995, only 3% of districts had overexploited their groundwater reserves whereas by 2011 it has increased to 15%%.
In 2013 assessment, it was found that out of the 6,584 units assessed across the country, 4,520 were found to be safe, 681 were semi-critical, 253 were critical and 1,034 were overexploited. About 96% blocks were saline.
The overall contribution of rainfall annual ground water resource recharging of country is 68%. The share of other resources, such as canal seepage, return flow from irrigation, recharge from tanks, ponds and water conservation structures together accounts for 32%.
According to CGWB report of 2015, the national per capita annual availability of water has reduced from 1,816 cubic metres in 2001 to 1,544 cubic metres in 2011 — showing reduction of 15%.
It also notes that water resource potential or annual water availability of country in terms of natural flow in rivers is about 1,869 BCM/year. However, the usable water resources of country is about 1,123 BCM/year. This huge difference is mainly due to geographical limitation and water being unequally distributed in various river basins.