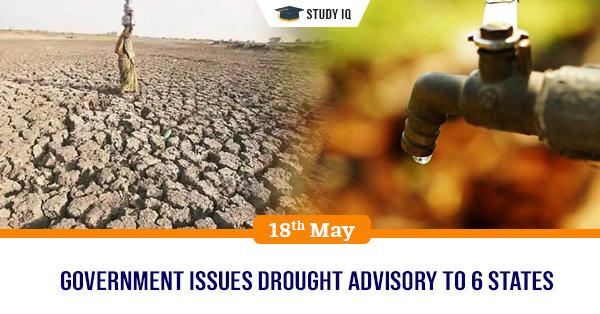 Government issues Drought Advisory to 6 states
Date: 18 May 2019
Tags: Disaster & Disaster Management, Geography & Environment
Union Government has issued Drought Advisory to 6 states viz. Maharashtra, Gujarat, Karnataka, Andhra Pradesh, Telangana and Tamil Nadu. It has asked these to use water judiciously as water storage in dams has dropped to a critical level.
What is drought advisory?
It is issued by Union Government to states when the water level in reservoirs is 20% less than the average of live water storage figures of the past 10 years. It only recommends states to use water for drinking purpose only till the dams are replenished. As water falls under the state list, Union Government can only issue advisory to states, but it is upto state government to implement this advisory.
Background
Central Water Commission (CWC) under Union Ministry of Water Resources monitors water storage available in 91 major reservoirs across the country. According to recent figures released, total water storage available is 22% of total storage capacity of these reservoirs