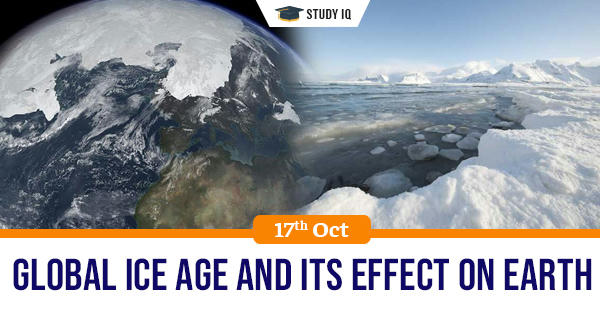 Global Ice age and its effect on Earth
Date: 17 October 2019
Tags: Geography & Environment
Issue
A study has found that a global ice age over 600 million years ago dramatically altered the face of the planet, that may have important implications for the evolution of complex life.
Background
An ice age is a long period of reduction in the temperature of the Earth's surface and atmosphere, resulting in the presence or expansion of continental and polar ice sheets and alpine glaciers.
Details
The researchers studied sedimentary deposits of rocks present in oceans to trace their origin and know more about their nature.

The study showed that the sedimentary rocks were formed due to movement of land sediments along with biomass into the ocean .

The melting of ice sheets after Snowball Earth caused a dramatic rise in sea level, ultimately flooding the continents, driving a remarkable retreat of shorelines and the development of clearer ocean water.

It was previously thought that distinctive carbonate rocks were deposited over less than 10 thousand years, as the sea level rose when the ice that covered the entire globe melted.

But evidences have shown that they were likely deposited over hundreds of thousands to millions of years following the sea-level rise.
Evidences of Ice age
The paleontological evidence consists of changes in the geographical distribution of fossils. During a glacial period cold-adapted organisms spread into lower latitudes, and organisms that prefer warmer conditions become extinct or are squeezed into lower latitudes.
The chemical evidence mainly consists of variations in the ratios of isotopes in fossils present in sediments and sedimentary rocks and ocean sediment cores.
Geological evidence for ice ages comes in various forms, including rock scouring and scratching, glacial moraines, drumlins, valley cutting, and the deposition of till or tillites and glacial erratics.