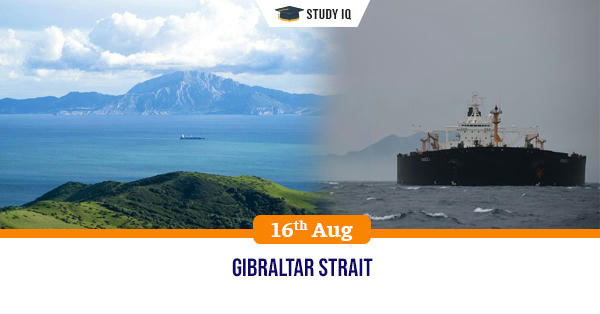 Gibraltar Strait
Date: 16 August 2019
Tags: Geography & Environment
Issue
Gibraltar has freed an Iranian oil tanker, Grace 1, detained last month on suspicion of sanctions-busting
Background
Gibraltar seized the Iranian tanker in early July with the assistance of Britain, which said it was carrying two million barrels of oil to Syria in violation of European Union sanctions.

The Iranian tanker's release is expected to pave the way for Iran to free the British-flagged tanker, Stena Impero, which it captured in the Persian Gulf last month for breaking international trade laws.
Strait of Gibraltar
Gibraltar is a British Overseas Territory located at the southern tip of the Iberian Peninsula. The Gibraltar's geographical location has increased its significance on international stage.
Geographical significance
Just South of Gibraltar, a narrow passage is located that joins Mediterranean sea and Atlantic Ocean.

The Strait of Gibraltar divides mainland Europe (Spain) from Mainland Africa (Morocco).

The passage connects Europe with countries in Eastern hemisphere including the Americas and has a very high influence on trade relations.

The country that controls Gibraltar automatically dominates the strait. This is the reason for British authorities holding onto this part of territory despite pressure from international community to hand it back to Spain.
Other Major Straits
Strait of Hormuz ( Arabian sea and Persian Gulf)

Strait of Malacca ( Indian Ocean and Pacific Ocean)

Bab-al-Mandeb (Indian Ocean and Red Sea)

Bering Strait ( Arctic Sea and Pacific Ocean)

Bosporus Strait ( Black Sea and Sea of Marmara)

Kerch strait (Black Sea and Sea of Azov)