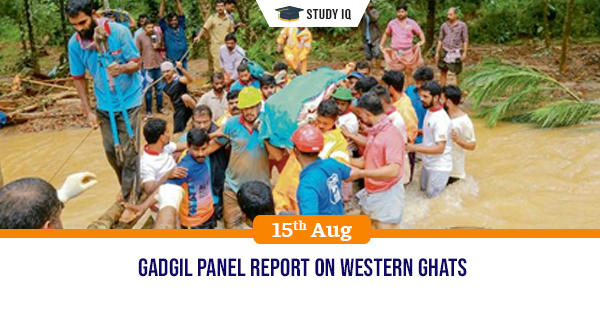 Gadgil Panel report on Western Ghats
Date: 15 August 2019
Tags: Geography & Environment
Issue
The recommendations of Gadgil Committee officially known as The Western Ghats Ecology Expert Panel report is back in limelight after floods in Western Ghats.
Background
Recently heavy rains have crippled parts of Western Ghats which have resulted in disasters such as landslides and floods. The affected areas have been marked sensitive under Gadgil report. This puts a big question on authorities regarding conservation on sensitive regions of Western Ghats.
Gadgil report Salient Features
Suggested shifting from large-scale cultivation of single commercial crops on steep slopes, which was leading to soil erosion and increased run-off

Designate the entire Western Ghats as an Ecologically Sensitive Area (ESA), and then assign three levels of sensitivity to the regions. These were Ecologically Sensitive Zone 1 (ESZ1), Ecologically Sensitive Zone 2 (ESZ2) and Ecologically Sensitive Zone 3 (ESZ3) depending on the topography, climatic features, hazard vulnerabilities, ecological resilience and origin of rivers, among other factors.

No more new hill stations, no mining, no change of land-use from forest to non-forest use, or public to private ownership and no more inter-basin diversions of rivers in the Western Ghats were some of the other recommendations.
Western Ghats
The Western Ghats, also known as Sahyadri are a mountain range that covers an area of 140,000 square kilometres (54,000 sq mi) in a stretch of 1,600 kilometres parallel to the western coast of the

Indian

peninsula

, traversing the states of

Kerala

,

Tamil Nadu

,

Karnataka

,

Goa

,

Maharashtra

and

Gujarat

.

It is a

UNESCO

World Heritage Site

and is one of the eight "hottest hot-spots" of

biological diversity

in the world. It is sometimes called the Great

Escarpment

of India. It contains a large proportion of the country's

flora

and

fauna

, many of which are only found in India and nowhere else in the world