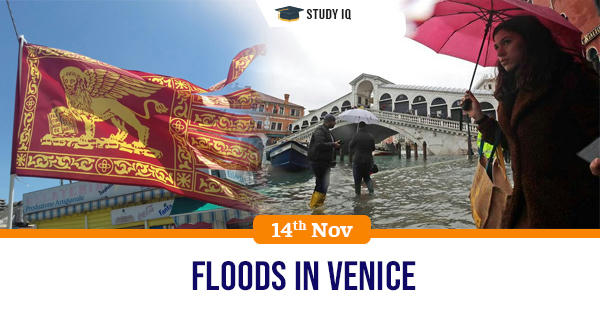 Floods in Venice
Date: 14 November 2019
Tags: Geography & Environment
Issue
Flood levels in Venice city reached the second-highest level since records began in 1923 as a result of the acqua alta, which hit 1.87 metres. This has resulted in floodings in major parts of the city.
Background
Venice sits on thousands of wooden piles driven into the mud, but rising sea levels and heavy cruise ship traffic have steadily eaten away at the surrounding marshes and mudbanks, causing the city to gradually sink.
Details
The floods, accentuated by driving rains and strong winds, also ravaged areas beyond the city itself.

Venice's huge Saint Mark's Square, once described as Europe's living room, was submerged by more than one metre of water.

More than 80% of Venice was under water when the tide was at its highest and although levels had receded by daybreak further bad weather was expected later in the week.

With the rise of sea levels, and an increase in the frequency of sea storms, extreme phenomena such as floodings will become ever more numerous.
Venice
Venice is the capital of northern Italy's Veneto region and is built on more than 100 small islands in a lagoon in the Adriatic Sea. It has no roads, just canals , including the Grand Canal lined with Renaissance and Gothic palaces.

Venice has been known as "La Dominante", "La Serenissima", "Queen of the Adriatic", "City of Water", "City of Masks", "City of Bridges", "The Floating City", and "City of Canals". The lagoon and a part of the city are listed as a UNESCO World Heritage Site.
Location