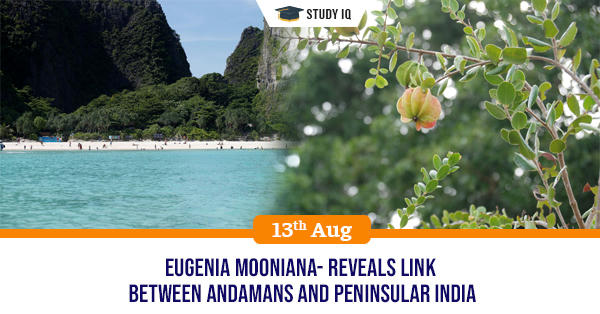 Eugenia mooniana- Reveals link between Andamans and Peninsular India
Date: 13 August 2019
Tags: Geography & Environment
Issue
A lesser known plant located in Andamans has showed potential to solve missing link between Andamans and Peninsular India.
Background
During an exploration mission an interesting plant was discovered in forests of Andamans.
Detailed taxonomical studies carried out by the scientists established the species as Eugenia mooniana, a plant that is hitherto known to occur only in Assam, Karnataka, Kerala, Maharashtra, Tamil Nadu and Sri Lanka.
Importance of Discovery
There are 1,026 common species for the Andaman-Nicobar islands and the Western Ghats of peninsular India. "The fragmented distribution of these floral species demonstrates the geological connection of these widely- separated regions in the remote past," says the study.

This discovery can shed some light on common origin of Andaman and Nicobar Islands and peninsular India especially the Western Ghats.
Additional Information
There are many theories that link to common origin for various divisions of India but lack proofs of such origin.

The bio diversity acts as a major indication to establish connection between two geographical regions.

The other ways of establishing origin are Fossils, rock samples, rock bands etc.