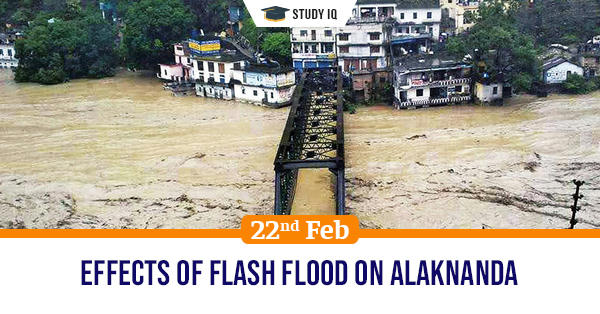 Effects of flash flood on Alaknanda
Date: 22 February 2021
Tags: Geography & Environment
Issue
The flash flood caused in Dhauliganga river in Uttarakhand has turned the waters of Alaknanda river into muddy colour.
Details
The river is usually clear in winter and it becomes muddy only in the monsoon. The recent phenomenon is unusual.

The volume of debris that fell into the Rishi Ganga and was carried downstream to the Alaknanda is difficult to estimate.

But it is estimated that a glacial rock mass of 0.2 to 0.4 million cubic metre volume fell from about 5,600 m to 3,600 m along a 40-degree incline, transforming into a muddy slurry.
Alaknanda
The Alaknanda rises in the Satopanth glacier and is met at Vishnuprayag by the Dhauli Ganga, which carried deposits from the flood on Feb 7.

The Alaknanda is then met by the Nandakini at Nandaprayag, Pindar at Karnaprayag, Mandakini at Rudraprayag, and Bhagirathi at Devprayag. Thereafter, it is known as Ganga, which flows to Rishikesh and Haridwar.

In hydrology, the Alaknanda is considered the source stream of the Ganges on account of its greater length and discharge.

However, in Hindu mythology and culture, the other headstream, the Bhagirathi, is considered the source stream.