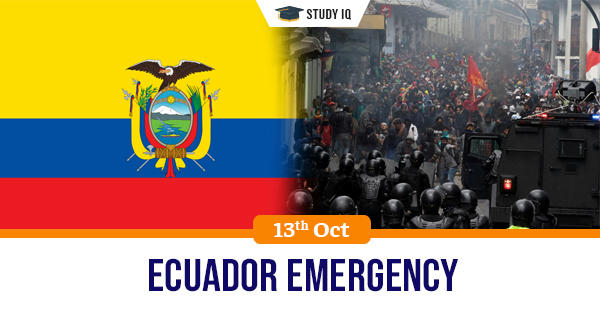 Ecuador emergency
Date: 13 October 2019
Tags: Geography & Environment
Issue
Ecuador President, Mr Moreno has ordered the capital Quito and surrounding areas placed under curfew and military control after deadly protests against government austerity measures taking place since 11 days.
Background
The restrictions in Quito came on top of a state of emergency the President had declared on October 3, deploying military and police and imposing a night time curfew in the vicinity of government buildings.
Details
Indigenous groups from disadvantaged communities in the Amazon and the Andes have spearheaded demands that Mr. Moreno reinstate fuel subsidies that were cut.

The violence has forced the government to relocate to Ecuador's second city, Guayaquil.
Ecuador
Ecuador is a country straddling the equator on South America's west coast. Its diverse landscape encompasses Amazon jungle, Andean highlands and the wildlife-rich Galápagos Islands.

Quito is the capital and is known for its largely intact Spanish colonial center.

It shares its border with Peru and Colombia and is located on the Pacific coast of South America.