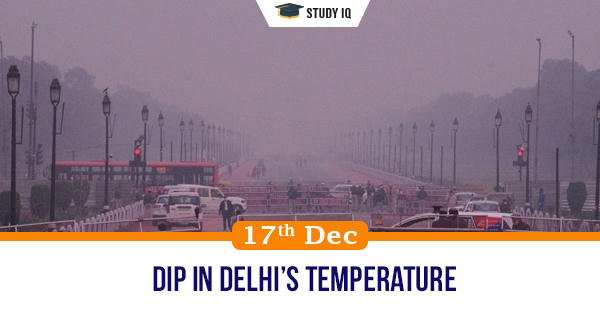 Dip in Delhi's temperature
Date: 17 December 2020
Tags: Geography & Environment
Issue
The minimum or night time temperature in New Delhi dropped to 4.1 degrees Celsius, the lowest during the season this year.
Background
Delhi's temperature is influenced through external factors such as high altitude snowfall, heat wave or western disturbance.
Details
There has been a significant amount of snowfall over the past few days in states falling in the western Himalayan range such as Jammu & Kashmir, Himachal Pradesh, and Uttarakhand under the influence of a Western Disturbance.

Snowfall in the western Himalayan range means cold, north-westerly winds blowing over Delhi from the direction of this high altitude area, and clearing of cloud cover with the passing of Western Disturbance, and leads to a fall in temperatures.

The lack of cloud cover also leads to higher radiation from the Earth's surface into the atmosphere at night time, which also cools the ground.

Moreover, under the influence of an active La Niña climate pattern, temperatures across the globe have been dipping.
Cold wave
Cold wave is when the minimum temperature dips to 10 degrees Celsius or less and the departure from normal temperature is 4.5 degrees Celsius or lower.
Western disturbance
A western disturbance is an extratropical storm originating in the Mediterranean region that brings sudden winter rain to the north-western parts of the Indian subcontinent. It is a non-monsoonal precipitation pattern driven by the westerlies.

Extratropical storms are a global phenomena with moisture usually carried in the upper atmosphere, unlike their tropical counterparts where the moisture is carried in the lower atmosphere.