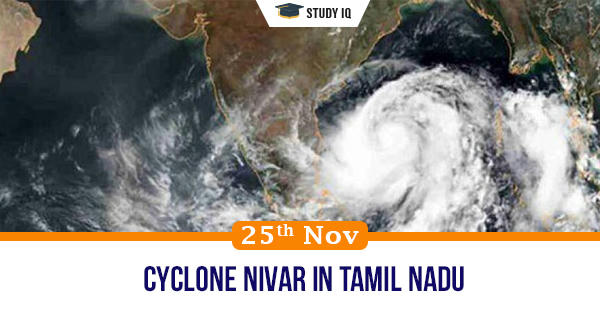 Cyclone Nivar in Tamil Nadu
Date: 25 November 2020
Tags: Geography & Environment
Issue
The Bay of Bengal will see its second Severe Cyclone of the year, after Super Cyclone Amphan formed in May.
Background
The cyclone will affect Rayalaseema, Telangana, coastal Andhra Pradesh, Tamil Nadu, Puducherry, Karaikal, and south interior Karnataka.
Details
A tropical cyclone is a rapidly rotating storm system characterized by a low-pressure center, a closed low-level atmospheric circulation, strong winds, and a spiral arrangement of thunderstorms that produce heavy rain.

Depending on its location and strength, a tropical cyclone is referred to by different names, including hurricane, taiphoon, tropical storm, cyclonic storm, tropical depression, and simply cyclone.

The cyclonic winds blow counter-clockwise in the Northern Hemisphere and clockwise in the Southern Hemisphere.

The opposite direction of circulation is due to the Coriolis effect. Tropical cyclones typically form over large bodies of relatively warm water.

They derive their energy through the evaporation of water from the ocean surface, which ultimately recondenses into clouds and rain when moist air rises and cools to saturation.
Formation of cyclone
Large sea surface with temperature higher than 27° C

Presence of the Coriolis force enough to create a cyclonic vortex

Small variations in the vertical wind speed

A pre-existing weak low-pressure area or low-level-cyclonic circulation

Upper divergence above the sea level system
Path of cyclones
Cyclones start with a westward movement, but turn northwards around 20° latitude. They turn further north-eastwards around 25° latitude, and then eastwards around 30° latitude. They then lose energy and subside.

Tropical cyclones follow a parabolic path, their axis being parallel to the isobars.

Coriolis force or earth's rotation, easterly and westerly winds influence the path of a tropical cyclone.