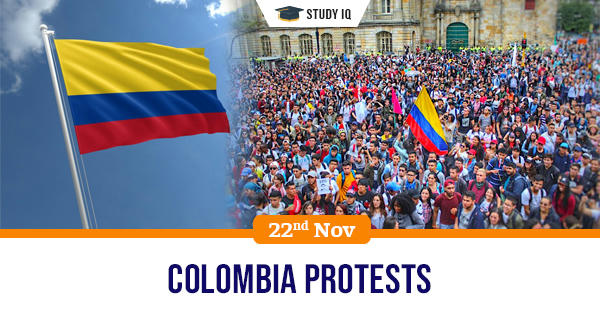 Colombia protests
Date: 22 November 2019
Tags: Geography & Environment
Issue
Tens of thousands of Colombians took to the streets of the capital Bogota amid a general strike to protest the policies of the government.
Background
The protest comes amid social upheaval across South America, as a wave of unrest over the past two months has battered governments in Chile, Bolivia and Ecuador.
Details
The popularity government has been on the wane since election 18 months ago, as it deals with hosting 1.4 million refugees from neighbouring Venezuela's economic meltdown as well as the complex fallout of a 2016 peace deal with FARC rebels and rampant drug trafficking.

Pensioners, students, teachers and union members joined marches across the country in one of biggest mass demonstrations in recent years

Students are demanding more funding for education, while indigenous communities insist on greater protection in remote areas where 134 activists have been killed.

Organisations that participated in the strike have issues with security policy as well as attempts to introduce a more flexible labour market, weaken public pension funds and raise the retirement age.
Colombia
Colombia is a country at the northern tip of South America. It's landscape is marked by rainforests, Andes mountains.

It is bordered by Panama, Venezuela, Ecuador, Peru and Brazil. It is the only country in South America which is located on both Atlantic as well as Pacific coast.

The capital city is Bogota and other important cities include Cali, Medellin, Cartagena.

Colombia has the second-highest biodiversity in the world and is one of the world's 17 megadiverse countries. It is located on the Equator.

Colombia is the only NATO Global Partner in Latin America. It is part of the CIVETS group of leading emerging markets and a member of the UN, the WTO, the OAS, the Pacific Alliance, an associate member of Mercosur and other international organizations.

President: Ivan Duque Marquez

Currency: Colombian Peso