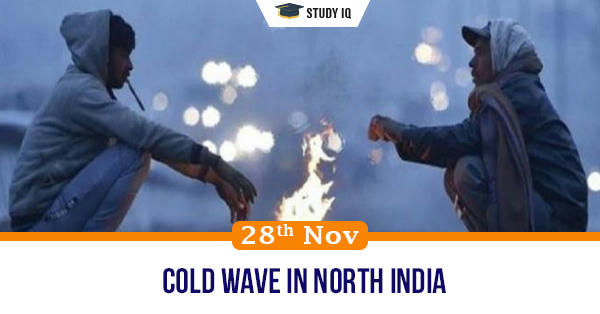 Cold wave in north India
Date: 28 November 2020
Tags: Geography & Environment
Issue
Northern India is bracing for a cold winter with sharp drop in night time temperatures. This is expected to bring a new cold wave.
Background
One of the main reasons for cold wave is snowfall in J&K, Himachal Pradesh, and Uttarakhand that has pushed cold waves towards Ganges plains.
Details
The snowfall occurred under the influence of Western Disturbance. It is a phenomenon associated with rainfall, fog, and snow.

When skies are cloudy, there is comparatively lower radiation during day time. This lowers maximum temperatures.

A reason behind this temperature drop is explained by climate pattern La Nina, which has developed this year.

Polar vortex has also weakened, leading to pushing of cold waves deeper towards equator from the northern pole.
Polar vortex
A polar vortex is a persistent, large-scale, upper-level low-pressure area that rotates counter-clockwise at the North Pole and clockwise at the South Pole (called a cyclone in both cases), i.e., both polar vortices rotate eastward around the poles.

The vortices weaken and strengthen from year to year. As with other cyclones, their rotation is driven by the Coriolis effect.

Polar vortices are weakest during summer and strongest during winter. Ozone depletion occurs within the polar vortices – particularly over the Southern Hemisphere – reaching a maximum depletion in the spring.

When the vortex of the Arctic is strong, it is well defined, there is a single vortex, and the Arctic air is well contained.

When weaker, it will break into two or more vortices. The flow of Arctic air becomes more disorganized, and masses of cold Arctic air can push equatorward, bringing with them a rapid and sharp temperature drop.

Sudden stratospheric warming events are associated with weaker polar vortices. This warming of stratospheric air can reverse the circulation in the Arctic Polar Vortex from counter-clockwise to clockwise.