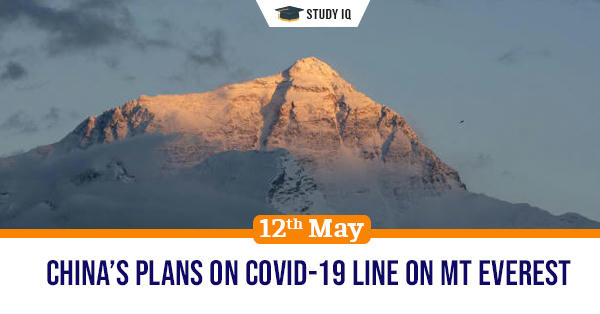 China's plans on Covid-19 line on Mt Everest
Date: 12 May 2021
Tags: Geography & Environment
Issue
China will be implementing a "line of separation" at the top of Mt Everest to prevent transmission of Covid-19 infection in climbers.
Background
Nepal has seen its Covid-19 infection rates escalate. The infection has also reached the Mt Everest, forcing China to adopt the measure.
Details
Mt Everest stands on the border between Nepal and China. It can be climbed from both sides. The two countries had jointly undertaken many missions.

Nepal has failed to prevent the pandemic from reaching the base camp of Everest whereas the situation in China has returned to normalcy.

The summer climbing season has not been suspended by Nepal. China has not allowed any foreign climbers to scale Everest since the pandemic.
Separating climbers
China will send some of its climbing guides to set up a separation at the summit. This looks unnecessary considering the area on the summit.

At a given time, only five to six members can stand at the summit. During busy hours, climbers get only a few minutes on top.

Contact between climbers is highly unlikely due to thick clothing, gloves and oxygen masks. So the process of "line of separation" looks frivolous.