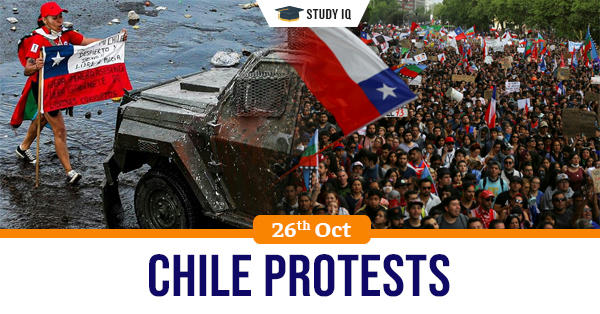 Chile protests
Date: 26 October 2019
Tags: Geography & Environment
Issue
As many as millions of Chileans have marched to the capital Santiaga for a peaceful demonstration against inequalities in the nation.
Background
Chile's unrest is the latest in a flare-up of protests in South America and around the world, each with local triggers but also sharing underlying anger at social disparities and ruling elites.
Details
The protests began in Chile's capital, Santiago, as a coordinated fare evasion campaign by secondary school students which led to spontaneous takeovers of the city's main train stations and open confrontations with the Chilean Police.

Chileans are also frustrated with the increasing cost of living, as well as low wages and pensions, a lack of education rights, a poor public health system and crippling inequality.

It is the worst violence the country has witnessed since the end of the 17-year-long military dictatorship of Augusto Pinochet in 1990.

The majority of protests taking place across the country have seen civilians take to the streets, banging spoons against cooking pots, a form of protest known as cacerolazo, calling for the resignation of Pinera.

The protests began as a student-led demonstration against transport fares. The government announced that the metro rush hour prices would rise.

Metro stations, supermarkets, and petrol stations were burned throughout the night, leading the president to call a state of emergency.

From then on, a nationwide movement began, seeing people occupy the streets and demanding the president's resignation.
Chile