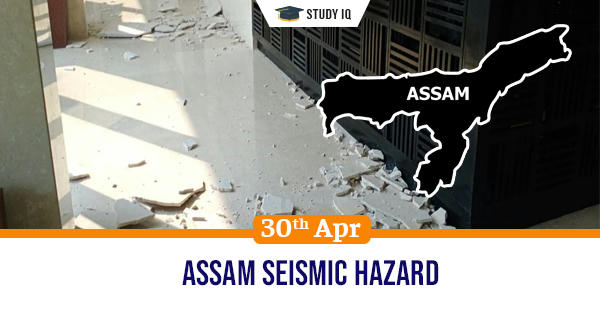 Assam seismic hazard
Date: 30 April 2021
Tags: Geography & Environment
Issue
An earthquake measuring 6.4 on Richter scale stuck Assam recently, causing damage to the infrastructure.
Background
The North east region along with the Himalayas is very vulnerable to earthquakes due to its presence along a major fault line.
Details
The epicentre of the earthquake was located near to Kopili Fault closer to Himalayan Frontal Thrust (HFT).

This area is seismically very active and can be categorised into the highest Seismic Hazard zone V in the country.

The north east region as a whole has a history of large to moderate earthquakes in recent times. The Assam-Tibet Earthquake of 1950 was one of the largest in recent times.
Himalayan Frontal Thrust (HFT)
HFT is a geologically active fault along the boundary of Eurasian and Indian plates. It is at this point that Indian plate sub-ducts beneath the Eurasian Plate.

Himalayan mountain range has one of the highest seismic hazards in the world due to the collision between the Indian and Eurasian plates.
Fault
It is a fracture that takes place in rocks of the Earth's crust where compression or tension forces the blocks to displace relative to each other. The displacement can occur in the form of an earthquake or a creep.