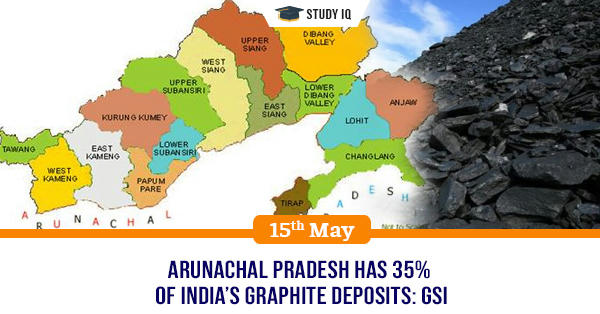 Arunachal Pradesh has 35% of India's graphite deposits: GSI
Date: 15 May 2019
Tags: Geography & Environment
The Geological Survey of India (GSI), under Union Ministry of Mines has revealed that 35% of India's graphite deposits are found in Arunachal Pradesh. GSI presented this data during its annual interactive meeting with Department of Geology and Mining and Government of Arunachal Pradesh in Itanagar. It held that Arunachal Pradesh can be leading producer of graphite in the country in future and help to meet domestic demand as country has currently been importing graphite.
GSI meeting
It emphasised that its survey and drilling activities to be moved towards India-China border considering fact that China was reportedly undertaking huge mining activities across the border in Tibet.

The development of road towards international border should will be boon for exploration of mineral in the international border.

It also agreed for promoting geo-tourism in State particularly in places where there are rich deposits of lime.
Geological Survey of India (GSI)
It is nodal government organisation in India for conducting geological surveys and studies. It is an attached office to the Ministry of Mines.

It is one of the premier organisations of earth science survey and research in the world. It is headquartered in Kolkata, West Bengal.

It was established in 1851 during British rule, primarily to find coal deposits for Railways. It is one of oldest of such organisations in the world and second oldest survey institution in India.

The main function is to create and update national geoscientific information and mineral resource assessment. It is prime provider of basic earth science information to the government, industry and the general public.