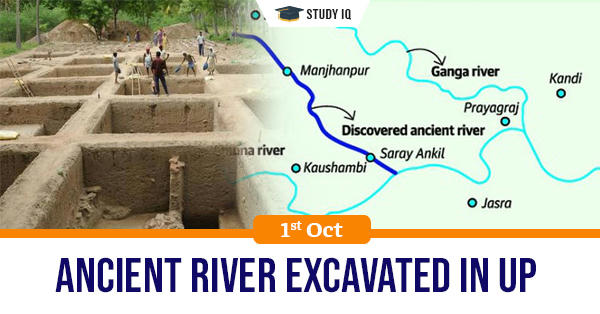 Ancient river excavated in UP
Date: 01 October 2019
Tags: Geography & Environment
Issue
The Union Water Ministry has excavated an old, dried-up river in Prayagraj that linked the Ganga and Yamuna rivers.
Background
The geological survey of India has been actively surveying in order to locate paleo channels. The paleochannels hold great potential to study ancient geological and climatic history.
Details
The "ancient buried river" as it is described , is around 4 km wide, 45 km long and consists of a 15-metre-thick layer buried under soil.

The newly discovered river, is a buried paleochannel that joins the Yamuna river at Durgapur village, about 26 km south of the current Ganga-Yamuna confluence at Prayagraj.

This report concluded that evidence from palaeochannels suggested that the mythological Saraswati river did indeed exist.

The aim is to develop it as a potential groundwater recharge source.
Paleochannel
A palaeochannel, or paleochannel, is a remnant of an inactive river or stream channel that has been filled or buried by younger sediment.

Many palaeochannels are arranged on old drainage patterns, distinct from the current drainage system of a catchment.
Importance of Paleochannels
Understanding movements of faults, which may redirect river systems and so form stranded channels that are, in essence, palaeochannels.

Preserving Tertiary, Eocene and Holocene sediments and fossils within them, important locations for palaeontology, palaeobotany and archaeology.

Preserving evidence of older erosional surfaces and levels, which is useful for estimating the net erosional budget of older regolith.

Preserving sedimentary records, which is useful for understanding climatic conditions, including various isotopic indicators of past rainfall, temperatures and climates.