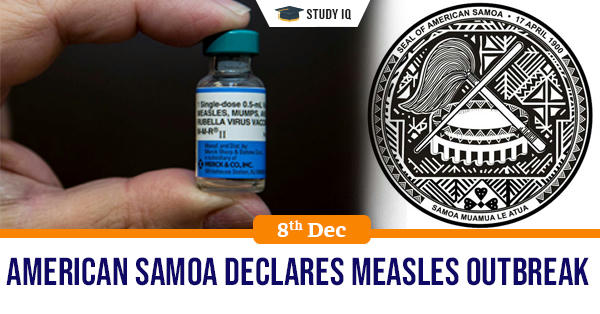 American Samoa declares measles outbreak
Date: 08 December 2019
Tags: Geography & Environment
Issue
The government of American Samoa declared that the territory has an outbreak of measles, a move that will lead to the closure of public schools and a ban on gatherings in parks.
Background
The government said the territory has nine cases of the disease. Five of those infected had been travelling outside the territory.
Details
The samples from those infected were sent to Hawaii for testing result showed that measles outbreak has occurred.

In the neighbouring independent nation of Samoa, over 60 people have died, mostly children, from measles and more than 4,000 were infected since the outbreak started in mid-October.

American Samoa will get a measles vaccine shipment from the U.S. Centres for Disease Control and Protection.

The developments in American Samoa came after dozens of Hawaii healthcare workers returned to their homes across the State after voluntarily providing measles vaccinations to thousands of residents of the independent nation of Samoa.
Measles
Measles is a childhood infection caused by a virus. Once quite common, measles can now almost always be prevented with a vaccine. Also called rubeola, measles can be serious and even fatal for small children.

The disease spreads through the air by respiratory droplets produced from coughing or sneezing.

Measles symptoms don't appear until 10 to 14 days after exposure. They include cough, runny nose, inflamed eyes, sore throat, fever and a red, blotchy skin rash.
Samoa
Samoa, officially the Independent State of Samoa, known as Western Samoa, is a country consisting of two main islands, Savai'i and Upolu, and four smaller islands. The capital city is Apia.

The entire island group, which includes American Samoa, was called "Navigator Islands" by European explorers. The country was governed by New Zealand until its independence in 1962.

Currency is T?l?.

Prime Minister: Tuilaepa Aiono Sailele Malielegaoi