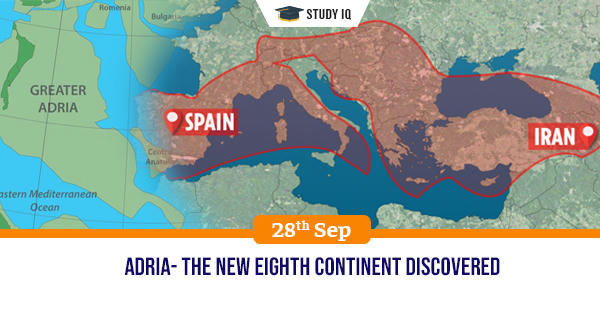 Adria- the new eighth continent discovered
Date: 28 September 2019
Tags: Geography & Environment
Issue
Geologists have discovered a new continent hidden in the Mediterranean region after analysing all the mountain ranges from Spain to Iran in detail for 10 years.
Background
Research revealed how a piece of continental crust the size of Greenland that once separated from North Africa plunged into the Earth's mantle under Southern Europe.
Details
Billed the eighth continent on Earth, this piece of continental crust is called 'Greater Adria.

The only remaining part of this continent is a strip that runs from Turin via the Adriatic Sea to the heel of the boot that forms Italy.

Most of this continent was situated underwater and formed shallow, tropical seas in which sediment deposited.

The sedimentary rocks, in particular, were scraped off when the rest of the continent subducted into the mantle.

These scrapings are now the mountain belts of the Apennines, parts of the Alps, the Balkans, Greece and Turkey.

The Mediterranean region is geologically among the most complex regions on Earth.

Plate tectonics, the theory that explains the formation of continents and oceans, assumes that the various plates of the Earth do not internally deform when they move with respect to each other along large fault zones.
However, in the Mediterranean region, and especially Turkey, that is not the case