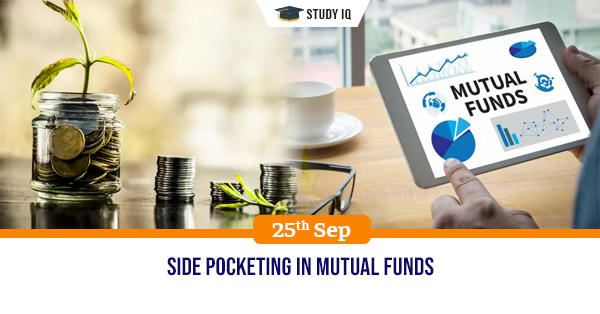 Side pocketing in mutual funds
Date: 25 September 2019
Tags: Financial Markets
Issue
UTI Credit Risk Fund and Reliance Ultra Short Duration Fund announced their intent to side-pocket bonds issued by Altico Capital after it as rated default grade by an agency.
Background
The issue of side-pocketing mutual funds have gained importance of after Sundaram finance has tried to side pocket funds from DHFL but it backtracked on its intention.
Details
side pocketing is a framework that allows mutual funds to segregate the bad assets in a separate portfolio within their debt schemes.

If a debt instrument is downgraded to default rating by credit rating agencies, then the fund house has the option to create a side pocket so that good assets can be ring-fenced.

Side pocketing segregates the bad assets from the good ones. All existing investors in the scheme are allotted equal number of units in the segregated portfolio as held in the main portfolio and no redemption or subscription is allowed in the segregated portfolio.

The units have to be listed on a stock exchange within 10 days to facilitate exit of the unit holders.

Effectively, this makes the price discovery of the bad assets a transparent procedure with investors having the freedom of either selling it at prevailing price or holding it if they expect the value to recover in future.

SEBI rules require all debt schemes to disclose the details of side-pocketed or segregated portfolios prominently with the scheme name in their advertisements, scheme documents, application forms and websites but there are chances that it could be misused by fund houses to hide their bad investment decisions.