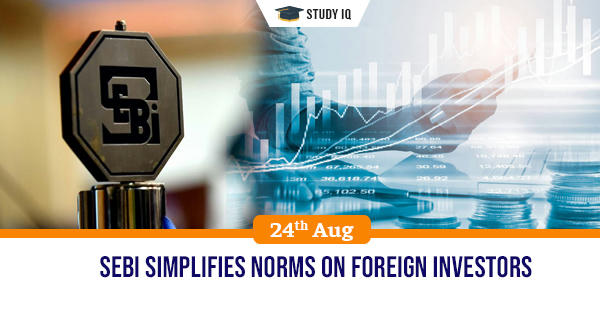 SEBI simplifies norms on foreign investors
Date: 24 August 2019
Tags: Financial Markets
Issue
The Securities and Exchange Board of India (SEBI) has simplified the compliance and operational requirements for foreign portfolio investors (FPIs), to make the regulatory framework more investor friendly.
Background
The Securities and Exchange Board of India is the regulator for the securities market in India.

Portfolio investments are investments in the form of a group (portfolio) of assets, including transactions in equity, securities, such as common stock, and debt securities, such as banknotes, bonds, and debentures.
Details
SEBI has decided to do away with the requirement that every FPI should have at least 20 investors which is known as broad-based in regulatory parlance. It has also simplified the KYC (or Know-Your-Customer) document requirement for overseas investors.

It has also allowed central banks of countries that are not members of Bank for International Settlement (BIS) to register as FPIs in India.

The regulator has amended the Prohibition of Insider Trading Regulations to include a clause to reward whistle-blowers up to Rs. 1 crore if the information leads to a disgorgement order of at least Rs.1 crore.

SEBI has also brought in clauses to protect the informant from victimisation in the form of termination, suspension or demotion, among other things.
Implications of Step
proposed regulations is to simplify and rationalise the existing regulatory framework for foreign portfolio investors in terms of easing the operational constraints and compliance requirements.

This is a much-needed boost to the FPI route, which had been languishing on account of multiple issues in the past few months.