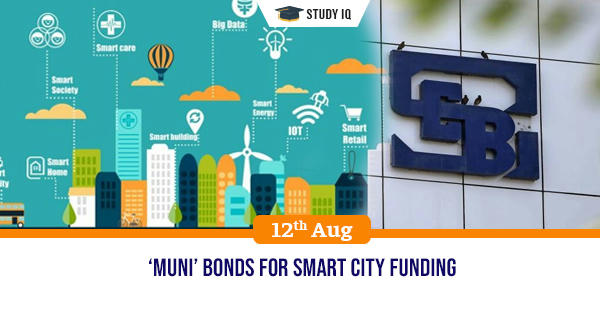 'Muni' bonds for Smart City funding
Date: 12 August 2019
Tags: Financial Markets
Issue
Sebi has relaxed norms to allow smart cities to issue funds through 'Muni Bonds'.
Background
Smart City initiative creates a larger requirement for makeover of cities through large-scale projects that needs huge funds.

The 'Muni' bonds are raised by city municipalities to fund for city projects under smart city initiative
'Muni' bonds
A municipal bond, commonly known as a Muni Bond, is a bond issued by a local government or territory, or one of their agencies. It is generally used to finance public projects such as roads, schools, airports and seaports, and infrastructure-related repairs.

Sebi is now proposing to allow issuance of 'Muni Bonds' also by other entities such as entities or bodies like urban development authorities and city planning agencies that perform functions similar to a municipality such as planning and execution of urban development projects.

Regulations would also be amended to allow fund-raising through Muni Bonds by special purpose vehicles set up for implementing the smart city projects.
How 'Muni' bonds can boost growth and development
Muni bonds are expected to provide impetus to growth especially in developing cities by easy fund availability to executing entities.

Muni bonds can also work as a means of long term investment to individuals by giving impressive interest rates.

The projects funded through Muni bonds are expected to be completed fast owing to faster resource availability.