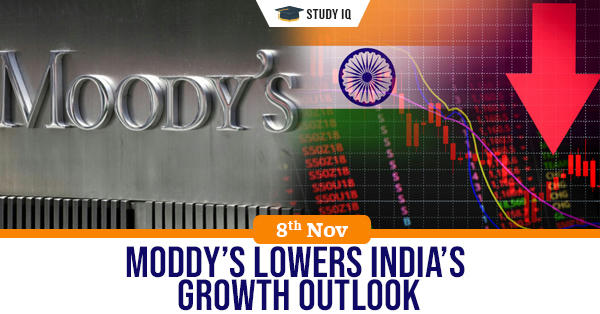 Moddy's lowers India's growth outlook
Date: 08 November 2019
Tags: Financial Markets
Issue
Moody's Investors Service changed its outlook on India's ratings to "negative" from "stable", citing increasing risks that the country's economic growth will remain lower than in the past.
Background
The rating agency said that the outlook partly reflects government and policy ineffectiveness in addressing economic weakness, which led to an increase in debt burden.
Details
India's economy grew only 5.0% year-on-year between April and June, its weakest pace since 2013, as consumer demand and government spending slowed amid global trade frictions.

The international ratings agency also said it estimates that the country's growth slowdown is in part long-lasting.
Credit Rating Agencies (CRA)
A credit rating is an opinion of a particular credit agency regarding the ability and willingness an entity (government, business, or individual) to fulfill its financial obligations in completeness and within the established due dates.

A credit rating also signifies the likelihood a debtor will default. Essentially, it is representative of the credit risk carried by a debt instrument , whether a loan or a bond issuance.

A credit agency is not involved in the transaction of the deal and, therefore, is deemed to provide an independent and impartial opinion of the credit risk carried by a particular entity seeking to raise money through loans or bond issuance.

The debt instruments rated by CRAs include government bonds, corporate bonds, CDs, municipal bonds, preferred stock, and collateralized securities, such as mortgage-backed securities and collateralized debt obligations.

A credit rating facilitates the trading of securities on a secondary market. It affects the interest rate that a security pays out, with higher ratings leading to lower interest rates.

Credit rating is a highly concentrated industry, with the "Big Three" credit rating agencies controlling approximately 95% of the ratings business.

Moody's Investors Service and Standard & Poor's (S&P) together control 80% of the global market, and Fitch Ratings controls a further 15%.
Types of Credit Rating
Investment grade ratings mean the investment is considered solid by the rating agency, and the issuer is likely to honor the terms of repayment. Such investments are typically less competitively priced in comparison to speculative grade investments.

Speculative grade investments are high risk and, therefore, offer higher interest rate upfront to reflect the quality of the investments.