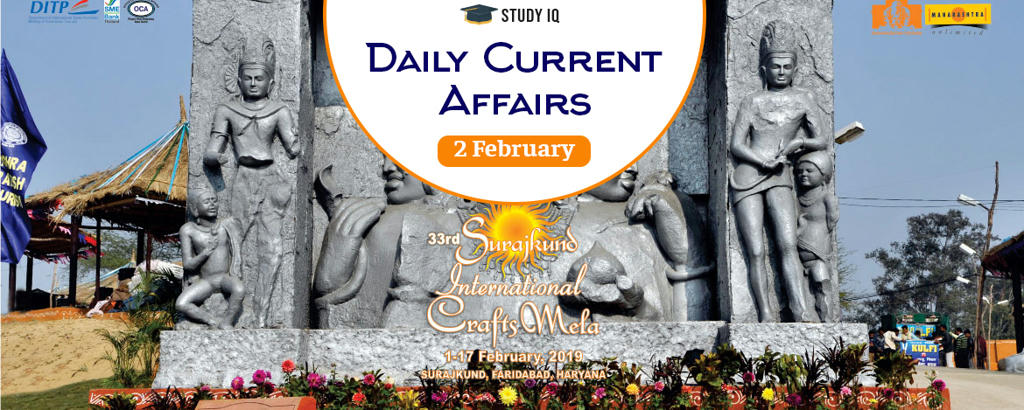 33rd Surajkund International Crafts Mela held in Faridabad, Haryana
Date: 02 February 2019
Tags: Fairs
33rd edition of Surajkund International Crafts Mela will be held in Faridabad, Haryana from 1 to 15 February, 2019. It was formally inaugurated by Maharashtra Chief Minister Devendra Fadnavis in the presence of Haryana CM Manohar Lal Khattar. Maharashtra is theme state and Thailand is partner country for year 2019.
The highlight this year's fair will be Raigad Fort of Maharashtra and stall of Australia. Raigad fort is special identity of the Maratha empire. The coronation of Chhatrapati Shivaji Maharaj took place on this fort. It was made his capital in 1674 AD and here he died in 1680. Besides, more than 32 countries, including Australia, are participating this time, many of which will be for the first time.
Surajkund Mela
It is hosted every year since 1987 to showcase richness and diversity of the handicrafts and cultural heritage of India.

It is organized by Surajkund Mela Authority & Haryana Tourism in collaboration with Union Ministries of Tourism, Culture, Textiles and External Affairs.

It derives its name Surajkund (Lake of the Sun) from ancient reservoir and amphitheatre constructed in 10th century AD by Raja Suraj Pal, one of Tomar chieftains. This monument was built to worship Sun God (Surya) and it resembles a Greek amphitheatre.

It is largest crafts fair in the world in which traditional craftsmen (artists, painters, weavers and sculptors) from all parts of India and world participate.
Objectives
Promote handicrafts, handlooms with the aid of craftsmen invited from all over the country.

Identify languishing and lesser-known crafts and to introduce them to patrons.

Display crafts and loom techniques by organising demonstration sections in mela grounds

Undertake promotion of export of handlooms and handicrafts

Set up environment to display rural crafts traditions.